Posted On 1 year ago
DairyFoodIce
CreamSnacks
Cleaning floors with an upright cordless vacuum cleaner makes cleaning our homes easier and more efficient. However, the cleaning experience is very poor if you use a cordless vacuum cleaner with poor suction power and repeated suction several times to remove it completely.
A cordless vacuum cleaner that can suck steel balls - Redkey P9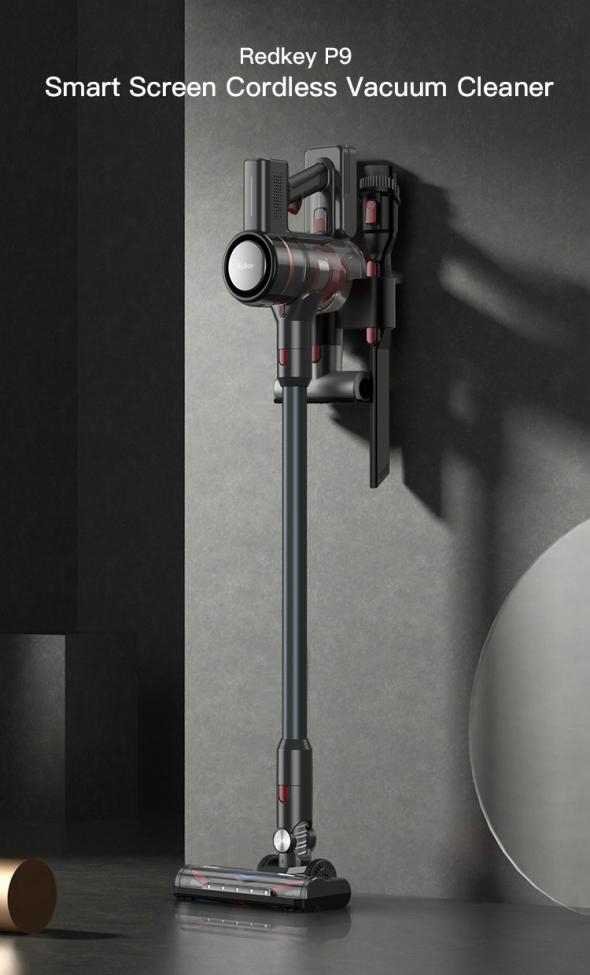 Redkey P9
Xiaomi Redkey P9 upright cordless vacuum cleaner, suction power up to 30K pa. 30KPa, equivalent to a second to inhale steel balls. Redkey P9 with a new generation of electric dust removal floor brush, it's easy to achieve ''storm instantaneous suction" dust removal. This is exactly what I want in an upright cordless vacuum cleaner, how does it perform? Let's test it together.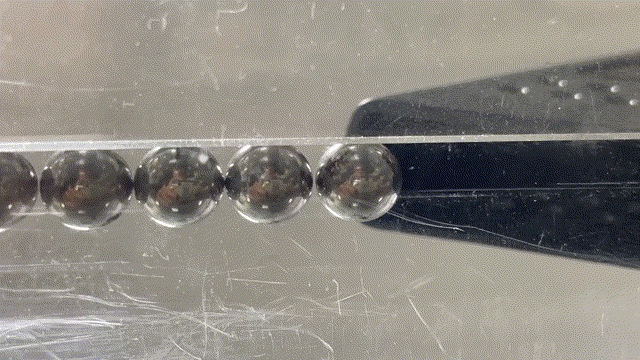 Redkey P9 can easily pick up steel ball .gif
After a period of use, I decided to record and share this shopping and using experience. I hope you can also find the right cleaning equipment.
From purchase to use, the Redkey P9 impressed me in five places: buying experience, parameters, cleaning effect, range performance and user-friendly design.
Content
Ⅰ、The comfortable buying experience
Ⅱ、Redkey P9 Parameters
Ⅲ、Large suction power to enhance cleaning performance, cleaning effect is very shocking
Ⅳ、Excellent battery life performance, making P9 a long-lasting cleaning ability
Ⅴ、The humanized design that knows you better than you know yourself, can only be known by using
Ⅵ、Summary: Redkey P9 is worth buying
Ⅰ、The comfortable buying experience
It took only 3 days from purchase to pick up.
24-hour customer service, careful explanation of product notes, too convenient.
We made a special inquiry and found that the price of an upright cordless vacuum cleaner with the same suction power on the market is basically around $400, while the Redkey P9 only costs about $170, which is quite cost-effective.
Ⅱ、Redkey P9 Parameters
· Maximum suction power 30K pa;
· Supports three levels of adjustment;
· Number of brush heads 4: new generation electric dusting brush; mite brush,
2 in 1 wide mouth suction head, flat suction;
· Battery capacity of 2600mAh;
· Endurance up to 60min;
· Support battery removable;
· Smart display to check health status, remaining power;
· Front LED searchlight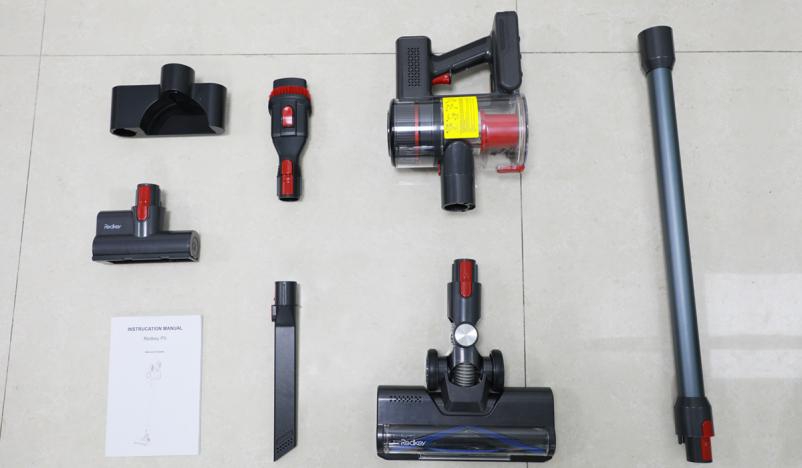 Redkey P9 and accessories
In terms of specifications, it has been very rare to see a device priced at $170 with such good parameters. Compared with other products on the market at the same price point, the Redkey P9 has a major advantage in terms of suction power, power, range and human-computer interaction.
Ⅲ、Large suction power to enhance cleaning performance, cleaning effect is very shocking
The main purpose of buying the Redkey P9 upright cordless vacuum was to clean quickly, save time and reduce hassle. As it turns out, the high suction power + electric dusting brush works really well to remove dust quickly, which has greatly improved my cleaning efficiency. Now I can clean the whole house floor in just 20 minutes (it used to take 35 minutes), and it really is good value for money.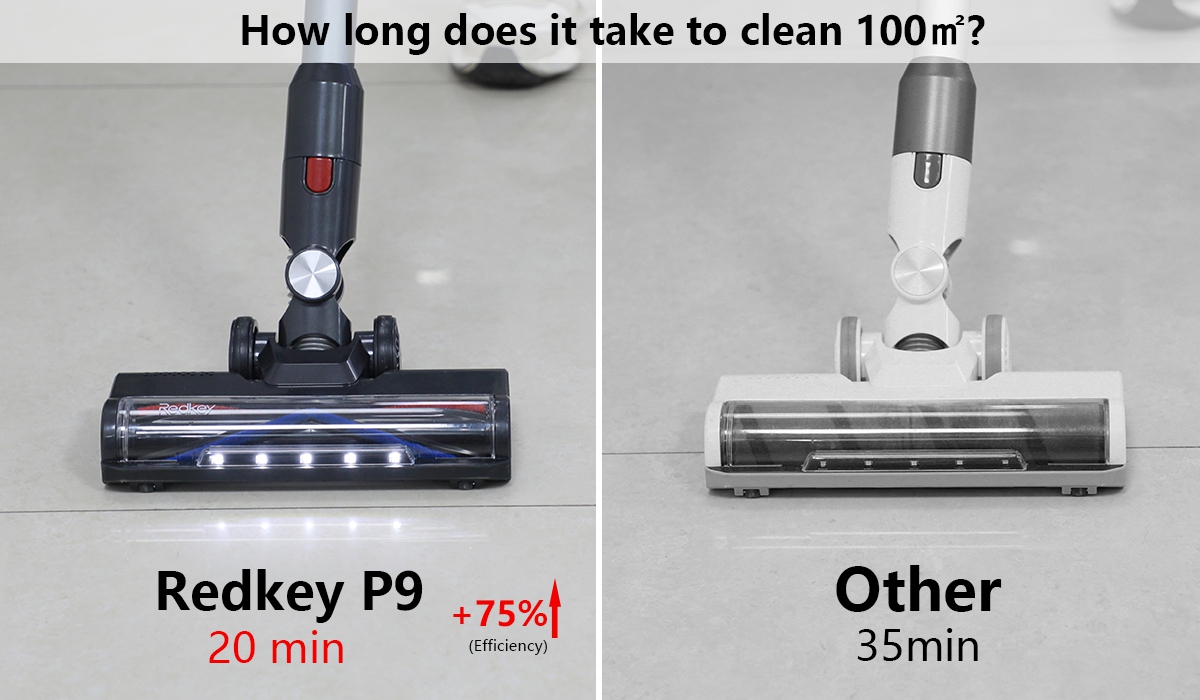 Redkey P9 only needs 20 minutes to clean 100㎡
The Redkey P9 upright cordless vacuum cleaner has a brushless motor with 350W of power and 30K pa of suction power at the top end. It not only cleans dust quickly but also thoroughly cleans crevices. In the test, I used the P9 to clean up the cat litter and cat hair scattered in the room, and it only took one pass to suck the litter into the dust bin without repeated cleaning, and the dust hidden in the crevices of the floor could also be easily sucked away, which is worry free.
The P9 supports three levels of suction power adjustment. When I am faced with stubborn stains that cannot be easily removed, I just need to adjust it to the highest gear and it can easily remove the stains. But for everyday use, the energy-saving gear is enough for general dust, hair and other trash.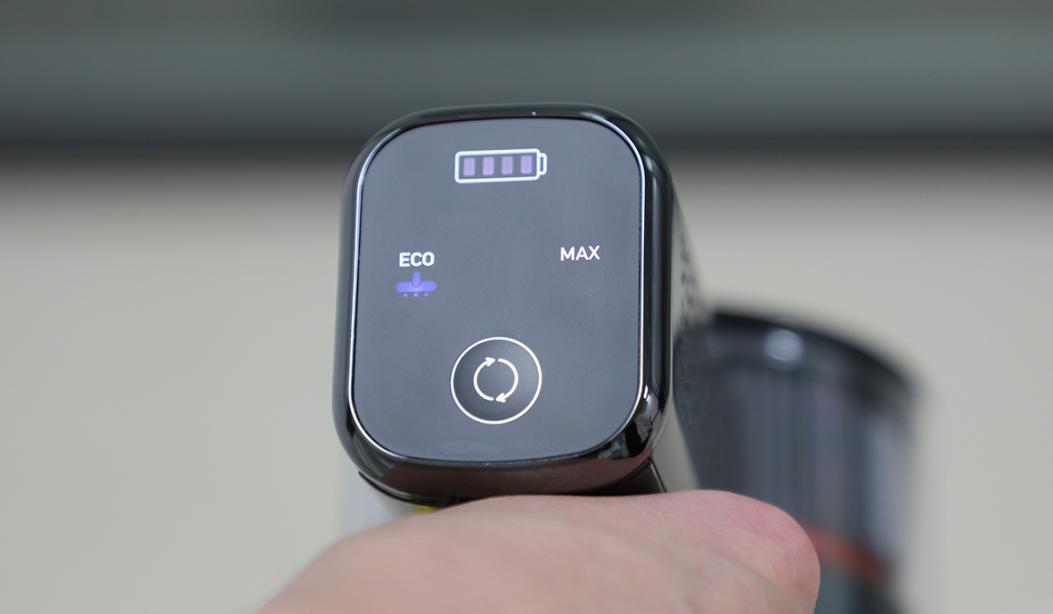 Redkey P9 can adjust the suction power through the screen button
Mites and other allergens are hidden deep in mattresses and pillows, using conventional patting methods can not be completely removed. P9 replaced with mite brush, can completely eliminate these deep allergens, mite removal rate of up to 99.9%, healthy and refreshing, skin can be at ease with the fabric.
Ⅳ、Excellent battery life performance, making P9 a long-lasting cleaning ability
For upright cordless vacuum cleaners, the battery capacity and the duration of life determine how large a room can be cleaned at once. The longer the battery life, the larger the area that can be cleaned.
In the test, I used the Redkey P9 to clean a 90㎡ room, changing the brush head to clean the bed, sofa, curtains and bookshelves, for a total of 45min, with about 35% power remaining.
I read from Redkey's promotional content that the P9 has a battery life of 60min on full charge, with a 2600mAh battery capacity and battery removal support. This means that even if the battery runs out, I can immediately replace the backup battery and clean immediately without waiting. In this respect, the P9 is perfect for cleaning large rooms and never have to lose power during the process and wait for charging to clean.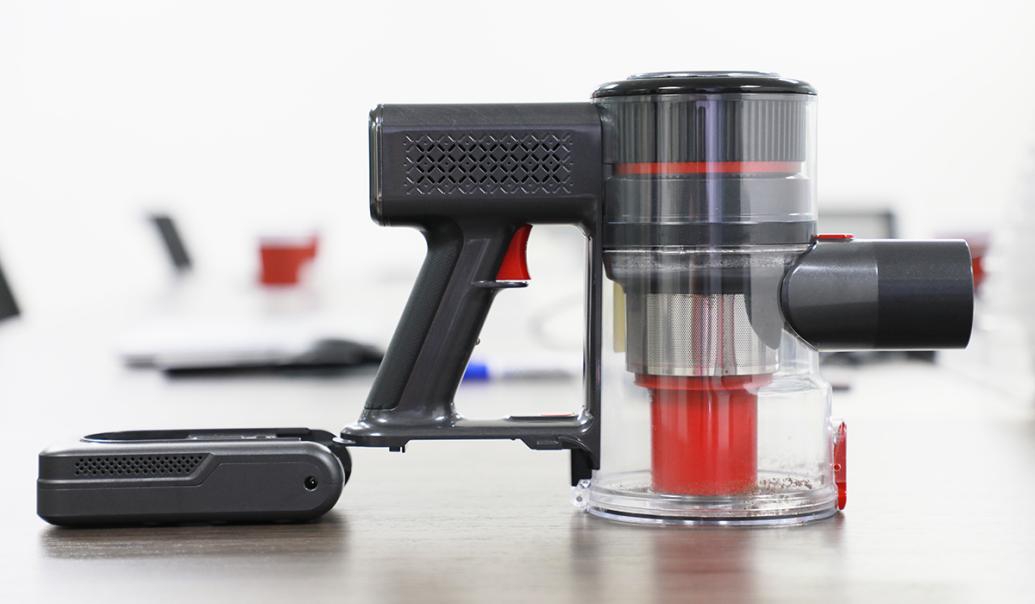 Redkey P9 supports battery removal
Redkey P9 has a long battery life, removable battery, and a battery charge time of 5 hours. It supports whole battery charging or individual charging, making it very flexible to use.
Ⅴ、The humanized design that knows you better than you know yourself, can only be known by using
The product design is user-friendly and which is more likely to win the hearts of consumers. I found that Redkey P9 is equipped with many user-friendly designs.
What I like most is its electric dusting brush. It is not only compact, easy to enter the bottom of the bed, sofa and other low place scene; and with the brush head front LED light. When I clean the dark scene, I can see the dust and avoid missing, making the cleaning more comprehensive. It is worth mentioning that the electric dusting brush is reasonably designed, efficient cleaning while using a smooth, effortless push and pull, the cleaning process is very easy.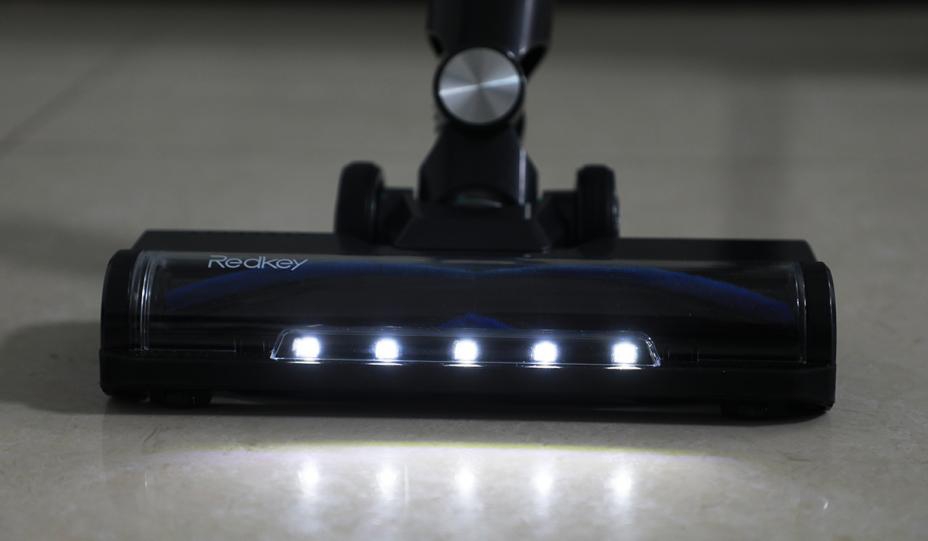 Redkey P9 front LED light
In addition, there is a real-time view of the remaining power of the smart display, space-saving and easy access to accessories such as storage rack, can bring me a convenient and comfortable experience.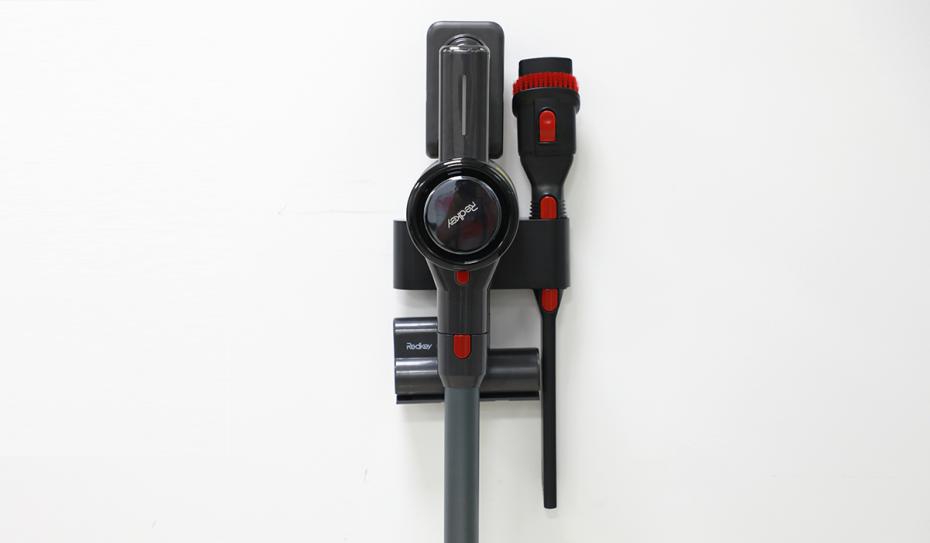 Redkey P9 storage hanger
I have to say that Redkey's user-friendly design is really thoughtful, taking into account all the difficulties that users may encounter in the actual use process and providing solutions in advance. Cleaning a room with the Redkey P9 is simple and easy.
Ⅵ、Summary: Redkey P9 is worth buying
From purchase to actual experience, I think the Redkey P9 is definitely worth buying. Not only does it have a great price/performance ratio (cheaper than similar suction upright cordless vacuums on the market); it also has the same cleaning power as other high-end models. With a high suction power of 30K pa and an electric dusting brush, you can clean the floor quickly and effectively.
Excellent endurance performance, 60min long endurance time and battery removable makes cleaning does not wait. It is also easy to clean large rooms in one go.
In the functional settings, accessories configuration, humanized design, but also it take into account the difficulties that consumers may encounter in the actual use of the process, and give solutions in advance. The important thing is that the product is comfortable to use, with good quality and a great cleaning experience!
Redkey P9 is cost-effective, has great suction power, far more cleaning power than most vacuum cleaners on the market, and it has a good range, and all other aspects of the product are also with very good performance and experience. If you are looking for a cleaner that will improve your cleaning efficiency, then the Redkey P9 is a good choice.